Click her to Register for Park Recreation
Click here to complete the Field Trip Permission Slips
---

A Letter for the Oakfield-Alabama Park Rec Director – Riley D'Alba
Hello All!
My name is Riley D'Alba, and I am so excited to be leading Oakfield-Alabama's Summer Recreation Program again this year. Park Recreation is a five-week program, held at Elroy Park in the village of Oakfield, that begins on Monday, July 8th and concludes Friday, August 9th. This program is available to all children ages 6-12. To register your child, visit www.townofoakfieldny.com and fill out the necessary online paperwork prior to the first day of recreation. If you do not have access to a computer or need help with this procedure, visit the Haxton Memorial Library or the Town of Oakfield building.
Supervision begins at 9am and concludes at 4pm. Children should be dropped off after 9am and picked up before 4pm. Children are welcome to attend the recreation program at any time throughout the day, after 9am. When dropping off your child please use the small parking lot on Drake Street AND be sure to sign in your child. When your child leaves the park, he or she must exit through this same parking lot and be signed out in the same fashion. A note written and signed by a parent/guardian will be sufficient for child who walks or rides their bike to/from the recreation program. Because your child's safety is our number one priority, I ask that you adhere to this strict policy.
Every Thursday from 9-10:30am this year there will be an optional swimming program at the school, with certified lifeguards. There will be time for both lessons, and free time to play in the pool. Children who wish to participate should be dropped of directly at the front doors of the high school and will walk with counselors back to the park at the conclusion of the open swim.
Primary communication this year will be through the Remind app. I advise all parents/guardians to sign up for these text alerts using the directions on the next page. Messages will be brief and limited to information regarding cancellations/location changes, field trip information, and any necessary items to bring to the park on a given day.
Lunch will be held daily from 12-12:30pm. The food stand will not be open for the summer, but free lunches provided by the school will be available to all children. Gluten free, dairy free, and vegetarian options are available upon request. Children should either be sent to the park with a lunch, or they should ask to receive a lunch upon signing in to the park. Children that wish to leave the park for lunch, will be granted permission ONLY if they have a signed note by a parent/guardian.
The Park will be open every day Monday-Friday. In the event of a severe thunderstorm, we will try our best to find an alternate location for the day. These options may include the Community Center of the Town Building, the Gymnasium of the School, or the Haxton Memorial Library. When such a decision is made a notification will be sent through the remind app.
Throughout this five-week program, there are various field trips that we will be taking. Permissions slips are to be filled out and turned in online at www.townofoakfieldny.com, and money is to be turned in, in person, to me. Both must be turned in 1 week prior to the trip. Permission slips and money will not be accepted after these dates. Due the limited seating on the bus, there are only so many children who can attend the trips, so it will run on a first come, first serve basis. It is important to turn in your permission slips and money ASAP. Because every Park Recreation Aide, and myself, will be attending these field trips, the Park will be closed that day.
I know this is a lot of information at once, but please review the packet and if you have any questions or concerns, you can contact me at rileydalba@gmail.com or (585)815-9152. I am looking forward to a great summer!
Sincerely,
Riley D'Alba
---
Stay Up-To-Date with Park Rec
PLEASE SIGN UP FOR THE PARK REC REMINDERS BY FOLLOWING THE SIMPLE STEPS BELOW FOR EITHER TEXT MESSAGE UPDATES OR EMAIL UPDATES – Thank you!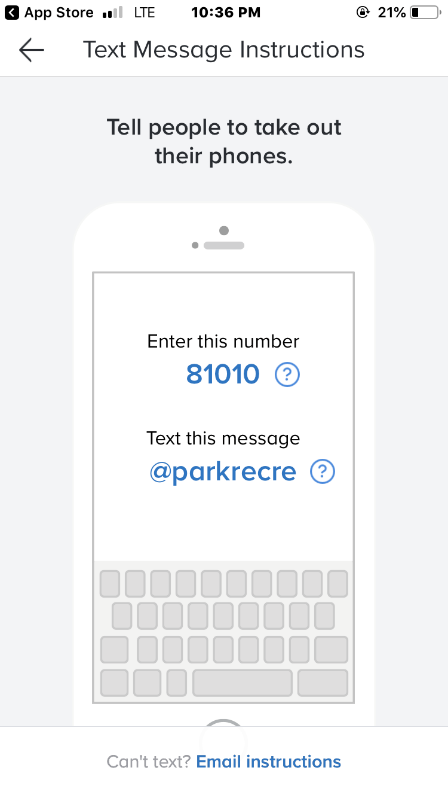 ---
Meet the Counselors
Riley D'Alba
Hi everyone!! My name is Riley D'Alba and I am going into my junior year at Hobart and William Smith Colleges this fall. Anyone returning to park rec knows me, as this is my fourth year being a counselor, and second being the director! I enjoy crafting and boondoggling, but this year I am most excited for our field trip to the Buffalo Zoo! Can't wait to see everyone this summer!!:)
Baylee Desjardins
Hi! My name is Baylee Desjardins and I am a senior nursing major at St. John Fisher College. This will be my first year as a counselor, but I have wanted to do this for a long time and I am super excited to meet all of you! I love being outdoors and am especially excited to have some fun at Seabreeze this year!
Peyton Yasses
Hello, my name is Peyton Yasses. I am going into my junior year at Oakfield-Alabama and enjoy playing sports, the tuba, and electric bass. I hope to see everyone at park this year for a very fun year!
Trevor Maier
Hi, my name is Trevor Maier and I just graduated from Oakfield-Alabama and plan on attending Canisius College in the fall. I love playing football and the saxophone, but my favorite game is Monopoly! I can't wait to meet everyone this year! It's going to be fun!!
Joey Burdick
Hi, my name is Joey Burdick and I am going into my senior year at Oakfield-Alabama Central School. I like to play basketball, and I am very excited to see everyone again this summer!!
Tayvon Boyd
Hi, my name is Tayvon Boyd. This is my third year as a counselor at Park Rec. My favorite thing to do is play any type of sport, and I'm looking forward to hanging out with everyone at the park this summer!
Shelby Carlsen
Hi everyone, my name is Shelby Carlsen!! I just graduated from Oakfield-Alabama Central School. I am so excited to be a counselor this year, and I cannot wait to get to know everyone this summer!