Alan R. Dennis
Phone: 585-948-5835 ext. 30
TDD Number*: 1-800-662-1220
Fax: 585-948-8108
Email: adennis@townofoakfieldny.com
---
*TDD is the Telecommunication Device for the Deaf or the New York relay number.
Summer Hours:
May 1st thru October 31st
Monday – Thursday
6:00 am to 4:00 pm
Winter Hours:
November 1st thru April 30th
Monday – Friday
7:00 am to 3:30 pm
---
A Message from the Highway Superintendent, Alan Dennis:
Here it is October with Thanksgiving and Christmas just around the corner. We are getting ready for the winter time season here at the Highway Department. The men are ready to jump into service, working on the trucks, plows, salt, liquid brine, snow fence. The following is a brief outline of what we have worked on this construction season.
Final pavement of Fisher Road north of Lockport Road.
Installed and fixed a large culvert pipe on Hutton Road.
Put in the electric at the pavilions in Town Park.
Planted (100) trees on the property lines in the Town Park.
Ran water lines to each pavilion in the Town Park.
Plus all other normal duties needed to be done.
Mowing of lawns kept everyone busy every four to five days. A couple of things to remember for this winter time season. When cleaning out your driveways it is ILLEGAL to plow snow across any highway or street. Remember also, please adjust your driving skills to winter time highway conditions. We here at the highway department want everyone to be able to enjoy a safe and happy Thanksgiving and Christmas. One Last Note To Remember; The winter time No Parking Regulation for the Town of Oakfield are 2 am-8 am on ALL Roads from November 1st thru April 30th and No Parking Regulation for the Village of Oakfield are 2 am-8 am on ALL Streets from November 1st thru April 30th.
Please help us by abiding by these parking laws to assist the snow plows in snow removal and treatment of the pavement.
Thanks to all the residents of the Town and Village of Oakfield for past, present and future support of the Town of Oakfield Highway Department.
Mailboxes Damaged During Snow Removal
In the course of plowing during and after significant snowstorms, our Highway Department receives phone calls regarding damage to mailboxes, either from snowplows directly or from the force of snow being thrown by the plows. If such damage is indeed caused by snow removal, it is not done intentionally but is an unfortunate consequence of snow removal.
As far as replacing damaged mailboxes, it must be pointed out that there is no statutory or legal authority which grants a property owner or resident along a public highway any right to place a mailbox in a highway right-of-way. The mailbox is on town or county right of way as a courtesy to the postal service.
Thus, when the necessity of keeping the highway open conflicts with the individual's reception of the mail, the latter must stand aside. The owner might even be compelled to remove the box under Highway Law #319.
From past experiences, we have found that plastic mailboxes do not withstand the abuse of snow from the plows hitting them and are not recommended.
As a courtesy, the Highway Department will place a temporary box so that a resident can receive mail if their box is damaged by the plow. We will not replace a fancy mailbox or post.
Mailbox posts with fancy supports are not recommended as they stick down under the box and give the wing plow something to get hold of. A box mounted directly on top of a treated 4 x 4 is best.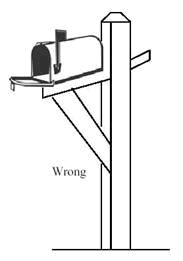 ---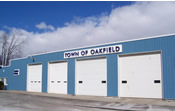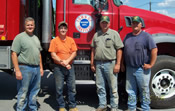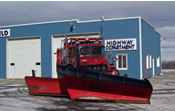 County Roads
The town contracts the county for snow and ice control on all county roads along with roadside mowing three times a year.
Deputy County Highway Superintendent
John Hilchey
585-944-8508 ext.3903